Junior Seminar: Studying History

HY 399--Carol Neel, Block 2, 2013-14

The image to the right is of one of the most famous and politically significant of the late eighteenth century. Here the painter-chronicler David portrays an incident from ancient history of Rome in which three brothers pledged to defend the Roman Republic with their lives. Is this painting about the Roman past or David's French present? How does it represent the commitment of the relationship of the individual and the state? How does David here read the past into the present to reframe both the history of ancient Rome and the politics of modern France?

In this course we will penetrate the picture plane of historical writing by asking, in a fashion analogous to interrogation of David's painting, why and how the past has been differently constructed by various historians, including ourselves.

And look to the bottom of this syllabus for a challenging visual image of the American past. Of what is the latter painting of a slave auction in mid-nineteenth-century Virginia trying to convince you? How does the nuance of its representation of African-Americans relate to successive accounts of slavery in the United States?

Jacques-Louis David, The oath of the Horatii (1884)
This course will raise two questions central to the activity of all students of the past and all professional historians: how can we know the past? how can we use that knowledge? In exploring possible responses, the course's readings and discussions will address the contemporary shape of the historical discipline as well as earlier models of historical study. Because "Studying History" is designed for history majors--although other students are welcome--students will be expected to use their prior experience in historical studies both to contribute to class discussions and to evolve their own points of view about history in general and individual research projects in particular. In so doing they will be entering a historical community widely extended across space and time, and including the several groups of HY 399 students still on campus who have completed this syllabus annually revised by the Colorado College History Department.
Discussion and discussion outlines
Throughout this exploration of historiography (that is the relationship between the material of the past and how we write and think about it) "Studying History" will call upon the active contribution of all students in reading assigned texts, presenting individual responses to common readings and establishing connections to outside readings. The group will proceed as a seminar; the instructor will endeavor to support discussion rather than lecture. Heavy responsibility will thus be placed upon all class members to be prepared, to express informed arguments and to respond attentively to each other's comments. Readings will generally be discussed on the day for which they are assigned and should always be completed before that day's meeting. Teams of students will be assigned to initiate and facilitate each day's conversation. Student-led discussion swill be supported by collaboratively prepared outlines, distributed at the beginning of the relavant class, of the content, critical context, and historiographical significance of the assignment.
Individual projects
By the end of the first week of the course all students will, in consultation with the instructor and other department members, choose a special topic. Development of this topic will require the reading of several sources, monographs or articles embracing sources and criticism on a topic of clear historiographical interest. In the course of the block each student's research projects will develop into a substantial paper (4000-5000 words, text and notes); workshops on these papers will effectively present work in progress to groups of peers. Papers may treat a wide range of topics, but all will address the central questions of this course: what, for the historian(s) at issue, is history for? Why, from her/his/their theoretical perspective and from the student critic's point of view, should we do history? What arguments and sources are presented in the historiography? Successful papers will not narrate events but rather discuss interpretive structures, setting their respective topics in the context of the course's common discussion of the background of contemporary historical thought. Further suggestions for the framing and completion of this major paper are available on the PROWL website.
Paper prospectus will identify research problems, sources and conclusions, each offering an annotated bibliography of the primary texts and scholarly discussions to which students' respective analyses respond. Outlines will clarify the way the way in which respective students intend to present historiographical problems, identify scholarly commentary and offer independent analysis. Papers developing these essential aspects of any historiographical study will be due at the final breakfast meeting, and will be constructed according to the standards for style, references and bibliography of the University of Chicago Manual of Style.
Assessment of student work will be evenly balanced between written work and class participation (seminar contributions and final oral exam, weighted equally). Students are welcome to consult with the instructor in teh course of the block about their achievement of course standards.
Caution and exhortation
Completion of this course requires serious commitment to both common readings and individual research, weighted equally in final assessment. Engagement in discussion is essential throughout; leadership assignments will be evaluated as an important part of seminar participation. Reading assignments are arranged throughout the course's three and a half weeks for optimal discussion, not for balance of page assignments; students need to manage time carefully, reading ahead on lengthier and more difficult works. The paper is due on the last day of the block and it is a big paper; it will be wise to begin earnest work on it during the first week. Hence, the instructor has set aside time early on and throughout the block for students to devote exclusively to paper development.
Sometimes students in Junior Seminar: HY 399 wish to clarify the relationship between their work in this course and the other elements of the exit experience (Advanced Seminar/HY 410 and Senior Essay/HY 420 OR Thesis/HY 415. All should be aware that work in "Studying History" may be connected to those final elements of the major, but that their papers here are fundamentally different. If students in this class have a clear idea about their senior research, they are welcome to treat the research paper here as a bibliographical and historiographical exploration of their eventual essays'/theses' material. What they write here cannot, however, be recast as a part or chapter of the final essay/thesis. Here the questions are chiefly theoretical; in the senior research project, the central requirement is that the student grapple with primary sources in critical context. Thus, the conclusions of the HY 399 paper may be a springboard for further research in HY 410-420/415, but its text may not be recycled as either an Advanced Seminar paper senior research project.
All work for this course is subject to the Honor Code; each paper must include a signed statement affirming compliance.
Required readings
The following works are available for purchase in the Colorado College Bookstore, and are listed here in order their use in the course:
Herodotus. Histories. Trans. Robin Waterfield. New York: Oxford, 2008. ISBN-10: 0199535663

Graff, Gerald and Cathy Birkenstein, They Say, I Say: The Moves That Matter in Academic Writing. 2nd ed. New York: Norton 2009. ISBN-10: 039393361X

Gerald of Wales. The History and Topography of Ireland. Trans. John O'Meara. New York: Penguin, 1983. ISBN-10: 0140444238

Ibn Khaldun. Muqaddimah: An Introduction to History. Trans. Franz Rosenthal. Abridged ed. Princeton: Princeton UP, 2004. ISBN-10: 0691120544

Marx, Karl and Friedrich Engels. The Communist Manifesto with Related Documents. Ed. John E. Toews. Boston and New York: Bedford/St. Martin's, 1999. ISBN-10: 0312177118

Clark, Elizabeth A. History, Theory, Text: Historians and the Linguistic Turn. Cambridge MA: Harvard UP, 2004. ISBN-10: 0674015843
All further required readings are accessible on the PROWL website (https://prowl.coloradocollege.edu/user/view.php?id=24305&course=147)
for this cooperative course. They are:
ON FILM AS NARRATIVE

Rosenstone, Robert A. "History as Images/History in Words: Reflections on the Possibility of Really Putting History onto Film." American Historical Review 93 (1988): 1773-1185.

Clytus, Radiclani. "Django Unchained: A Review." Common-Place 13 (2013). http://www.common-place.org/interim/reviews/clytus.shtml [accessed September 26, 2013].

ON SLAVERY IN U.S. HISTORY

Phillips, Ulrich B. Phillips, "Plantations with Slave Labor and free, " AHR 30 (1925): 738-753.

Stampp, Kenneth M. "The Historian and Southern Negro Slavery." AHR 57 (1952): 613-624.

Fields, Barbara Jeanne. "Slavery, Race and Ideology in the United States of America." New Left Review 1/181 (1990): 95-118.

Ford, Lacy K. "Reconfiguring the Old South: 'Solving' the Problem of Slavery." Journal of American History 95 (2008): 95-122.

ON SHAPES OF TIME AS INTELLECTUAL CONSTRUCTS

Genesis 1-22 (REB).

ON THE IDEA OF NATIONS

Anderson, Benedict. Imagined Communities. London: Verso, 2006. Pp. 9-36.

Wallerstein, Immanuel. "The Construction of Peoplehood: Racism, Nationalism, Ethnicity." In Wallerstein and Etienne Balibar, Race, Nation, Class: Abiguous Identities. London: Verso: 2010. Pp. 71-85.

ON FEMINIST CRITICISM

Scott, Joan Wallach. "Gender: A Useful Category of Historical Analysis." AHR 91 (1986): 1053-1075.

Ko, Dorothy. "The Body as Attire: Shifting Meanings of Footbinding in Seventeenth-Century China." Journal of Women's History 8 (1997): 8-27.

Bennett, Judith. "Lesbian-Like and the Social History of Lesbianisms." Journal of the History of Sexuality 9 (2000): 1-24.

ON POSTMODERN THEORY

Bakhtin, Mikhail. Rabelais and His World. Trans. Hélène Iswoldsky. Bloomington: Indiana UP, 1984. Pp. 1-24, 3-58.

Rabelais, François Rabelais. Gargantua and Pantagruel. Trans. M. A. Screech. New York: Penguin, 2008. Pp. 27-29, 129-133.

Bynum, Caroline. "Curriculum Vitae: An Authorial Aide." Common Knowledge 9 (2003): 1-12.
The following film will be the subject of critical discussion:
Django Unchained, dir. Quentin Tarantino. 2012.
Schedule of class meetings and assignments
Class will meet at 9:30am in Palmer 217, the Barton Seminar Room, unless otherwise noted.
Week 1 (September 30)--Organizing the past
Monday

Introduction 9am, second 1:00pm meeting

Discussion: Seeing, believing, and history

Film: Django Unchained

Reading: Rosenstone, Clytus

Tuesday

Discussion: Slavery as a historiographical problem

Reading: Phillips, Stampp, Fields, Ford

Wednesday

Discussion: Ancient paradigms, I

Reading: Herodotus 1.1-138 (pp. 1-63), 6.1-123 (pp. 353-395)

Thursday

Discussion: Making historiographical arguments

Reading: Graff and Birkenstein

Friday

Discussion: Ancient paradigms, II

Reading: Genesis 1-22
Week 2 (October 7)--Finding historical truth
Monday

Discussion: God and mankind in medieval West

Reading:

Gerald of Wales;

Tuesday

Discussion: Pattern in historical change, I

Afternoon library session: Research in historiography (Darryl Alder)

Reading:

Ibn Khaldun 3-63, 421-431, 459

Wednesday

Discussion: Pattern in historical change, II
Reading: Marx 63-96, 139-149

Thursday

No class meeting

Individual meetings with instructor

Paper prospectus due 2:30 pm

Development of paper topics

Friday

Discussion: The nation as the subject of historical analysis
Reading:

Anderson; Wallerstein
Week 3 (October 14)--Doing history/making historiography
Monday
Discussion: Men and not-men
Reading:

Scott; Ko; Bennett

Tuesday

Paper outlines due 1pm

Individual meetings with instructor

Wednesday

Research topic presentations

Oral peer criticism and response

Thursday

Afternon paper workshops

Paper drafts (at least 3000 words) due 9:30am in multiple copies

Paper workshops 1 pm

Written comments toward group critiques
Friday

Discussion: History and theory

Reading: Bakhtin; Rabelais; Clark 1-28, 63-129
Week 4 (October 21)--Doing history/making historiography
Monday

Class breakfast 9:30am at 2404 Constellation

All-class review discussion

Full paper drafts due in class

Individual review and completion of drafts
Tuesday
All-class oral examination

Study groups

Reading toward oral exam: Bynum

Wednesday
Final paper drafts due noon
Final revision of papers
The instructor will be available after class, Monday 3:45-5:00 and Thursday 1-2:30pm (or by appointment) in Palmer 233E for continuing discussion and help with individual projects. Students may contact Carol at 389-6527 or by e-mail at cneel@coloradocollege.edu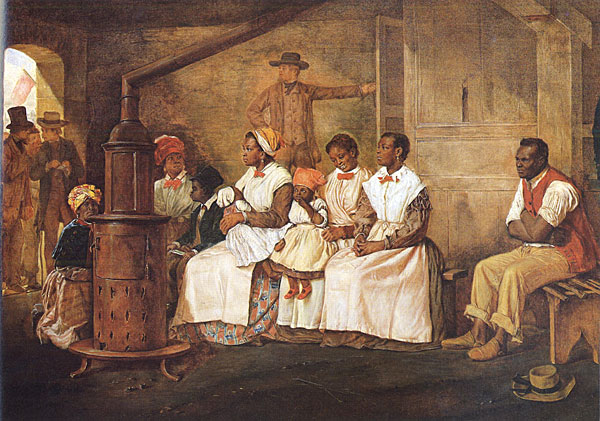 Eyre Crowe, Slaves Waiting for Sale in Virginia (1856)